It's getting more and more common to see that the hose and pipe manufacturers are replacing their semi-automatic coilers to the new advanced automatic pipe and hose coilers. Both solid wall pipe and corrugated hose are experimented to be workable on the
automatic pipe coiling and strapping machine
. Compare with the semi-automatic coiler, the machine might can be a very costy investment. But it brings lots of benefits which more over than doing the hose and pipe packaging by hands manually with semi-automatic hose coiler.
Manual operation is very easy to control as the workers are doing it by their hands with the help of the semi-automatic machinery. But for automatic machines, all steps are having great problems. The machine needs to wind the hose and pipe into reels and it's integrated with the front pipe making machine for the reason of automatic pipe feeding. But there are certainly will have break once the reel has formed and reached it's pre-set quantity. The pipe coiling machine needs to change the coilers while promising the speed of pipe making machine and the pipe coiling machine collaborative and compromise to each other.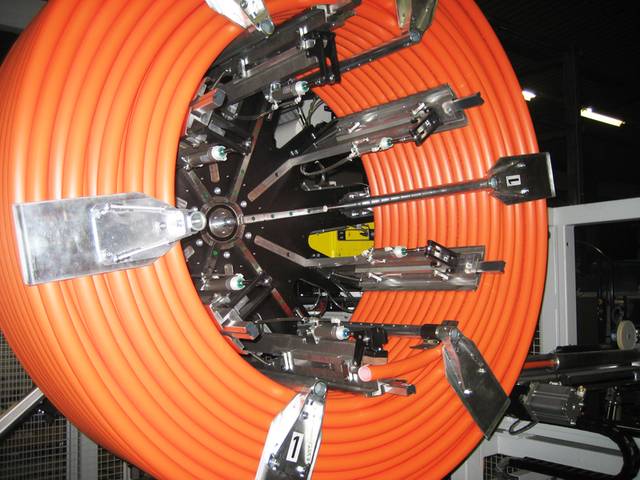 But despite all these difficulties, the
automatic pipe coiler
has great advantages than the semi-automatic pipe coilers. The working motions of the automatic pipe coiler is fully automatic and proceeded with good performance. The wound pipes can be directly strapped on the machine by the integrated strapping units to save labor costs and improve the efficiency.
The machine is also optional to have lots of customization. For example there can be special mechanism for the wound and strapped coils discharging. It's common to see a simple pusher pole driven by pneumatic cylinder is used. And some times, we can make the unique design to have the strapped hose coils transfered to a conveyor and then forward to a packaging machine which could be a coil stretch wrapping machine or a thermal shrink wrapping machine. The final products can be packed with nice and tight wrapping or with airtight and water proof shrink package.