By orbital stretch wrapper |
01
December 2020 |
0
Comments
Sandwich panel packed by large orbital stretch wrap machine
The sandwich panels are boards with EPS core which used as wall panels applied in different sorts of buildings such as industrial and commercial and normal housing. The sandwich panel is formed out by both external and internal metal facings with EPS core, it is profiled into the desired shape. The facings will be glued to polystyrene blocks by using special glue.
The EPS blocks which already prepared with certain length and width are joined with the material. The EPS core makes the panel light in weight and have both weather proof and sound proof characterists, it's resistant to compression and the steel wire has ensured the panel with it's structural function and tensile strength.
The main advantage of the EPS sandwich panel is the low and affordable price, which has made it become the most commonly used building material in the market.
As the large quantity of such panels, the package is difficult and important. It needs to be very large packing machines with fast speed and effective packages.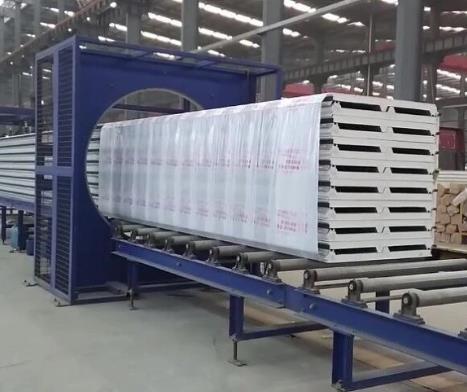 Emanpack provides
horizontal orbital stretch wrapping machine
, it's large sized orbital wrapper with large rotating ring and long conveyors for in-feeding and out-feeding. The whole packing line is fully automatic and high speed, the panels are stacked to large bundles and wrapped by stretch wrap. The wrapped products can be placed in construction field for a long time, no worries about the damage of rain and dust.....
Leave a Reply
Your email address will not be published.Required fields are marked. *