By Steel coil upender |
18
November 2020 |
1
Comments
What are the protections we have for mechanical upender, coil upender and coil tipper?
Talking about
coil handling
, usually the coil products such as steel coil, aluminum coil, steel wire spool, cord wire roll....are rested on a steel V-saddle which is welded.
But this condition could be damaging to some customers as their products need very good protection and nice exterior for selling. Simply rest the products on a steel welded V-saddle is very easy to get the products scratched or deformed. So, is there anything we can do to help and protect the steel coils?
Well, instead of the surface of the v-saddle be bare steel, we can use other material such as replaceable UHMW or Nylatron pads to cover it.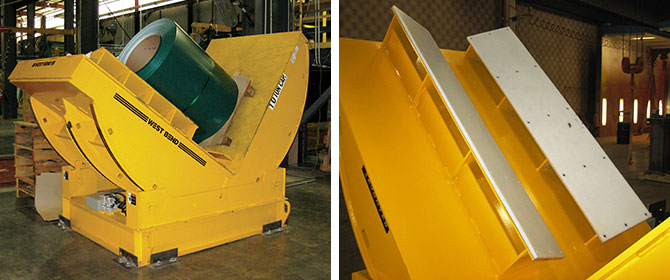 No matter it's bonded with urethane or covered with Nylatron pads, both can avoid scratch to the products as their hardness is less than the products.
Also, the coat will extend the worklife of the machine itself as they both are anti-wearing material. Effective to avoid the damage and wearing during the use. Such as a hit or collision between the machine and products. If the machine has these material coated, the damage could be small. But if there isn't these materials, both the machine and products could be ruined.
Leave a Reply
Your email address will not be published.Required fields are marked. *