This machine is suitable for the packaging of protective film on the surface of stainless steel profiles, plastic profiles, aluminum alloy profiles, etc. It has the characteristics of fast speed, smooth film and easy operation. The surface of the profile after being film-packed by this machine can be better protected and more competitive in the market.
Dedicated technical team meticulously crafts quality, stable and durable, simple operation.
All rubber wheels are coated with red or yelow polyurethane rubber wheels with low running resistance and no bubbles in the film.
Electric control system, frequency conversion speed regulation operation, reliable work, intelligent action.
Optional to have programmable PLC, controller and infrared sensor accurately control the servo motor with planetary reducer and pneumatic components to automatically complete a series of actions such as position detection, feeding, filming, and cutting. Make the mechanical operation more humane.
Features
Improve the utilization rate of material, reduce waste in the use of the installation process to avoid causing profile scratch, wear and tear, convenient material transportation, manufacturing and installation.
The inverter device can adjust the film speed and is more convenient to use.
The conveyor belt is smooth and flat, the film is bubble-free,and there is no folding.
An emergency stop switch is provided on both sides of the machine to stop at any time.
The pressure roller is adjustable in angle, the surface is smooth, and the film is firm.
This equipment is mainly used for protective film and adhesive tape sticking to the four sides of regular aluminum profiles and the multi-sided aluminum profiles with irregular shape.
Use servo motor to run, computer control the automatic film cutting, eliminating the cumbersome steps of manual film cutting of the traditional film laminator, and the conveyor belt conveys materials..
Convenient, fast, easy to operate and easy to manage. Adopt frequency converter to display speed, low noise and light.
The flexible adjustment hand wheel can quickly and effectively adjust the film distance with accurate positioning, superior craftsmanship.
The combination of high-quality parts and components makes the surface of the profile smooth and flat after filming, without air bubbles, improving the quality of the profile.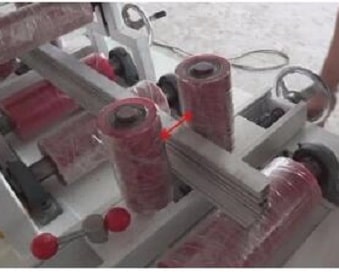 Technical Parameter
| | |
| --- | --- |
| Applicable size | Width 250mm*Height 150mm (Customized) |
| Adhesive section | four sections |
| Press roller size | ¢100×250㎜ |
| In-feeding direction | Right-left/ Left-right |
| Roller height | adjustable |
| Feeding speed | 0-280 m/min |
| Operation mode | Manual /automatic |
| Power supply | 380V, 3Ph, 50/60Hz ( available to customize) |
| Compressed air supply | 0.6-0.8mpa |
| Output | 3kw |
| Packing dimension | L2500mm * W1500mm * H800mm |
| Gross weight | app 680kg |
Optional Accessories
Roller conveyor
for integration with the production line
Upgrade to automatic working mode
for automatic feeding and laminating, film cutting...