EM-CY1200 Auto pipe coiling and strapping machine,the machine can be connected to the hose extrusion production line for online packaging...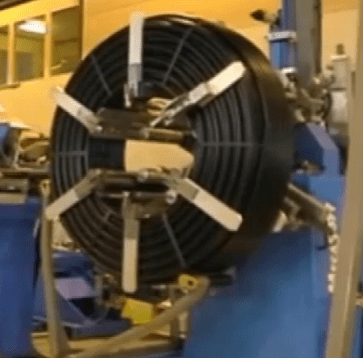 PLC & HMI control program for automatic operation.Coiling ID and OD can be adjustable per your need.
All conform to CE guidelines and have been designed using the latest technology and design criteria for plastic pipe industrial using.
Features
Parameters be set on the control program in English.
PLC & HMI control program for automatic operation.
Strong driving for big and hard hoses coiling.
Calculate hose length and cut the hose automatically.
Tension control for hose in feeding for tight coiling.
Detect hose position automatically by sensor.
Indicator alarms automatically when trouble occurs.
Detecting the tube position infeeding automatic by sensor.
Tension control for avoiding deforming in coiling.
Coiling a hose roll orderly and nicely.
Pneumatically pushing device discharge the hose coil.
The strapping station is able move forward and backward for automatic strapping.
Automatic strap the coil by 2 or 4 or 6 positions.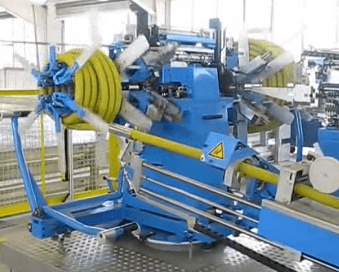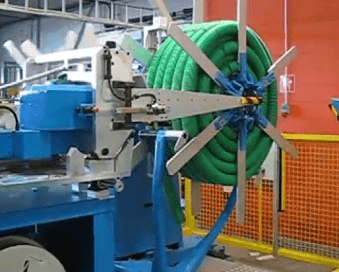 Technical Parameter
Hose Diameter
Φ40mm-Φ75mm
Coiling ID
450-800mm
Coiling OD
900-1200mm
Coiling Height
250-400mm
Coil Weight
100-300kg
Meter counter
25-100 meters
Coiling speed
Max. 30m/min (adjustable)
Strap position
4 straps
Strap material
PP strap Width:13mm Thickness:0.6mm
Power supply
380V, 3Ph, 50/60Hz( 220V, 480V.... available to customize)
Coil feed style
Hold coil type
Air Supply
6bar
Optional Accessories
Auto coil stacking
auto holding finished hose coils one by one to stacking system for pallet arrangement.