Learing from the O shape pallet inverter machine, this inline panel bundle inverter machine is an upgrade for the ply-wood bundle upender machine. Widely used for the wood manufacturing industry and it's an automated equipment which can be connected with other machinery to make the whole manufacturing system more efficient.
O shape turnover body easy to make the flipping of 180 degree under automatic control program.
Roller conveyors are built on both upper and bottom panels to forward the panel with connection to other related machinery.
Top press plates powered by pneumatic cylinders ( hydraulic cylinders for specific needs) to clamp the panel steadily during flipping motion.
Features
180 degree panel flipping, up-ending wooden panels continuously in line.
Pneumatic cylinder driven top clamp to fix the panel during rotation.
Clamp driven by hydraulic cylinder is optional, applied to heavy steel plates or doors.
Photoelectricity adopted to detecting the incoming of panels or other turnover products.
Optional to have new design for the forwarding direction or the machine structure.
Capable to used for variant dimensions and loads.
Smooth, accurate, vibration-free motion.
Simple control system with limited control buttons.
Operation is simple, non-professionals are able to manage, no need for training.
Strong structure makes the machine durable.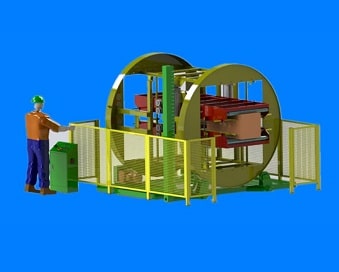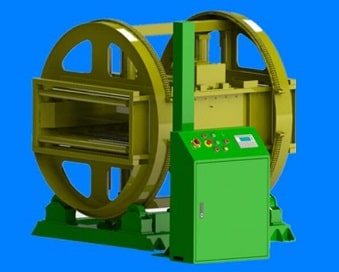 Technical Parameter
Degree of tilting
180°
Bundle dimension
(Max) L3000mm * W1600 * H500mm
(customization is provided)
Clamping range
200-600mm (customization is provided)
Max load
FZ-PB-01
1T
FZ-PB-02
2T
Platform dimension
depending on product's dimension
Turn over speed
40-60 sec/direction
Operation mode
button control
Power supply
380V, 3Ph, 50/60Hz( 220V, 480V.... available to customize)
Optional Accessories
Hydraulic cylinder
for clamping heavy loads
Combined conveyors
two forwarding directions on the same machine