Widely used in shrink packaging of food/cosmetics/hardware/electronic components/gift boxes and other industries, the SW-L450 L bar sealer shrink wrapper is an economical but versatile machine for automatic packaging.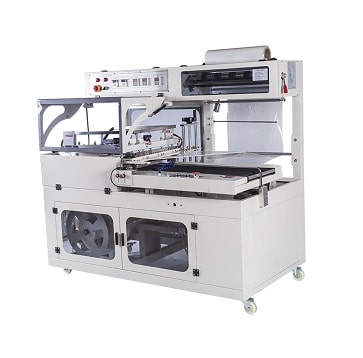 Alloyed thermal sealer adopts DuPont Flon coating, which is firm in time, no cracking, no coking, no smoking, no pollution.
Manual adjustment of film guide system enables the machine to cover a large range of product size.
The sealing and cutting part is equipped with a plexiglass protective cover, which is transparent and beautiful, convenient for observation and operation.

When the size of the package changes, it can be adjusted manually, no mold and pot maker are needed, and the front and back and height dimensions of the operating table can be adjusted.
Features
One line of bagging/cutting/heat sealing/heat shrinking is completed, and it can also be connected with the feeding sealing line to realize unmanned operation, save labor, and improve efficiency.
Positioning rod used for guiding the article, making the sealing and cutting effect more neat and beautiful.
Air is blown into the 90° angle to open the corners of the film to prevent the corners from wrinkling, so that the packaging effect is more beautiful.
Omron relay converts electrical signals into optical signals, and realizes transmission according to optical signals, which plays a role of electrical isolation.
The sealing knife itself also has an automatic protection function, which effectively prevents miscut packaging, and has an automatic alarm function, which greatly improves the safety of the operator.
According to different products, it is equipped with imported detection photoelectric, one set of horizontal and vertical detection, which is convenient to switch and choose.
For thin and small packaging, it can also easily complete the sealing and packaging operation.
Rollers of conveyor are made of silicion coated rods, able to resist high temperature.
The sealing knife adopts Teflon coating anti-sticking and high temperature resistant aluminum alloy knife, and the sealing will not crack, coke, smoke, and pollution.
Wind circulation, dual adjustment of thermometer and lower heat, combined with large wind blades make the shrinking furnace form a good wind circulation system, so that the heating is even..
The shrink tunnel adopts electronic speed governor can be used to adjust the speed infinitely to ensure the stability of looseness and good shrinkage effect.
Use high-quality copper wire motor to reduce noise. Durable and longer life. Stainless steel heating tube, heats evenly, and the shrinkage effect is beautiful and smooth.
Technical Parameter
| | |
| --- | --- |
| Sealing type | Fully sealed |
| Power supply | 380V/50-60Hz/3phase |
| Product size | Width≤350 mm, Height≤150 mm |
| | width+height≤400 mm, length+height≤500 mm |
| Conveyor system | straight conveyor |
| Packing capacity | 10-25 packs per minute (depends on product size) |
| Film type | center-folded polyolefin(POF)film |
| Max film roll dimension | 530mm (width) x 280mm(outer diameter) |
| Power consumption | max. 11kw |
| Heat tunnel conveyor | chains with silicon coated rods |
| Machine material | carbon steel |
| Weight | 500kg |