The automatic horizontal pallet strapping machine is a horizontal baler specially designed for horizontal baling. For the safety and stability of product movement or transportation on the pallet, the strapping station is placed on the top, and the bales are transported to the positioning. After descending and touching, the bonding point of the bale is in the middle of the conveyor.
PET belt used as the strapping material, high speed friction welding, no harmful gas is volatilized during the buckle process.
The size of the machine frame and the strapping bow frame can be customized, which is suitable for horizontal strapping of various sizes of products.
Simple, safe and user-friendly operation, automatic strap end detection.
Strap tension adjustable from soft to high, the strapping has fast welding speed, high quality and neat appearance.
Features
Robust structure, durable materials, high overall reliability.
Automatic unmanned strapping machine is mainly suitable for strapping and packing of pallets, buckets, cartons, barrel....
PLC control, easy to embed in fully automatic conveyor line, multiple packaging modes can be preset.
Through the use of PET packing belts to strap the goods horizontally, the layered pallet transport goods are reinforced and stabilized to prevent the goods from collapsing and ensure the transportation safety of the goods.
Based on advanced design and good operation interface, this model has better performance, higher efficiency and less maintenance cost. Low failure rate, simple maintenance, convenient maintenance.
One or more tapes can be taped according to customer needs (up to 10 tapes can be available).
The tightening force is adjustable from 0 to 300 kg.
Signal reminder when the packing belt needs to be replaced.
The bow frame safety anti-collision device to avoid collision with the package.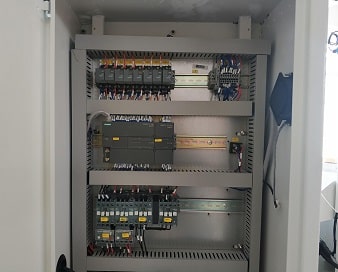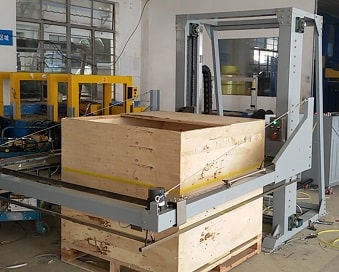 Technical Parameter
| | |
| --- | --- |
| Working height | ≥300mm |
| Strapping speed | 20 seconds/strap |
| Belt feeding speed | 3.7m/s |
| Strap belt reel dimension | |
| ID | 200-210mm |
| OD | 400-500mm |
| Width | 160-180mm |
| Arch | 1450mm*1400mm |
| Operation mode | Automatic |
| Strap belt type | PET belt |
| Strap belt dimension | Width:9-15(±1)mm, thickness: 0.55-1.0(±0.1)mm |
| Strap tension | 0-300kg |
| Power supply | 380V 50/60Hz 1.2kw |
| Machine overall size | L3180mm* W2270mm* H4600mm |
| Gross weight | 800kg |
Optional Accessories
Roller conveyor
for inline automatic strapping with in-feeding and out-feeding system