During wood making manufacturing, the plywood panel usually needs to be pasted with decorative layer before using it to create a furniture. If it's by hand flipping, the work could be tiring and time consuming. But this plywood upender machine could solve this problem easily.
Round rotation body easy to bear heavy loads and turnover the large bundle of plywood panels with less energy costs.
Upper clamp driven by hydraulic cylinder downwards to fix the pallet and goods.
The rotation driven by electrical motor through gear box and chain connection.
Features
180 degree bundle flipping, up-ending multi layers of plywood panel at once.
Top clamp for clamping the plywood bundle, keeping the goods stationary during rotation.
Clamp can be driven by hydraulic cylinder, keep it stationary during rotation.
Sensor is optional to add for automatic stop of clamping.
Optional to add roller table for automatic in-feeding and out-feeding.
Supportive rollers adopted for bearing the heavy load.
Smooth, accurate, vibration-free motion.
Minimum control panel with only few buttons, clear and simple.
Operation is simple, non-professionals are able to manage, no need for training.
Strong structure makes the machine very durable.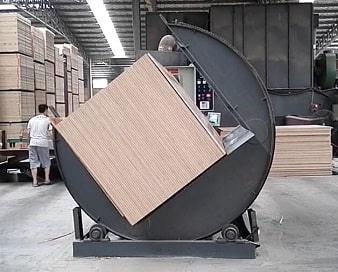 Technical Parameter
Degree of tilting
180°
Bundle dimension
(Max) L2800mm * W1400 * H1300mm
(customization is provided)
Clamping range
900-1400mm (customization is provided)
Max load
FZ-BP-01
1T
FZ-BP-02
2T
FZ-BP-03
3T
Platform dimension
depending on product's dimension
Turn over speed
40-60 sec/direction
Operation mode
button control
Power supply
380V, 3Ph, 50/60Hz( 220V, 480V.... available to customize)
Optional Accessories
Roller table
for automatic pallet in-feeding and out-feeding
Rotating base
for forklift loading and unloading at same side