The slat conveyor can move at a constant speed or index, again dependant on the requirements. Products can be placed directly on to the slat or jigs can be fixed to the slats to assist assembly on production lines.
Slats made of steel (normally galvanised or stainless), hard wood or plastic are bolted between the chains, effectively making a moving 'table' surface. The length of the conveyor and width of the slats is made to suit the product being carried.
The steel chain plate conveyor has high conveying efficiency. Since materials flow in the inner groove of the chain conveyor as a whole, this chain plate line can achieve a large number of materials transportation in a small slot space.
Chain Conveyor accommodate adjustable or fixed side rail guides for perfect product fit. And, side flexing, low back pressure and straight chain options suit any application.
Features
The beams are made of steel. The steel is bolted on plates that are welded on a chain. A chain pulls the beams over a frame covered by Polythene HMPE profiles. This system does not require any rollers with bearings.
The design and installation experts can seamlessly link existing equipment or integrate new equipment, depending on customer needs.
Slat conveyors can be level or inclined to move goods between floors.
Rollers on the conveyor chain move on its guide rail, conveyor chain and the housing without friction, as such, this conveyor line has fewer problems and a longer life span.
The chain is made of alloy steel by heat treatment; its expected service life is about three years; low failure rate in operation.
Transmission speed is adjustable through frequency converters.
Heavy load capacity.
There is no friction between conveyor chain and chassis, suitable for bottles, cans, carton etc..... transportation.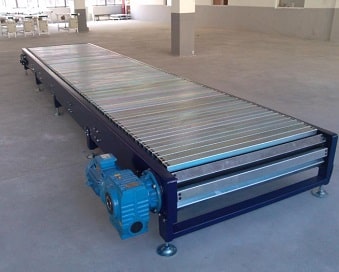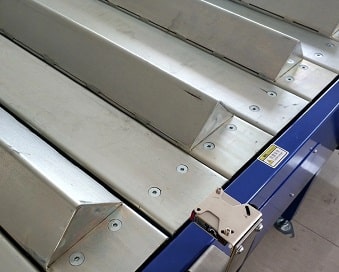 Technical Parameter
| | |
| --- | --- |
| Width | 500mm/800mm/1200mm........ customized |
| Length | 1000mm/2000mm/3000mm/6000mm.......customized |
| Loading height | 400mm/800mm.....customized |
| Max load | 2000kg |
| Conveying speed | 1-15m/min |
| Speed control | by speed regulator or frequency converter |
| Applicable machine | pallet wrap packer, orbital stretch wrapper |
| Working mode | automatic / button control |
| Output | 0.75Kw....... |