HM-S1400 is a special orbital stretch wrapping equipment designed for wrapping pallet loaded goods with forklift loading. The machine is large in size to match with pallet dimensions.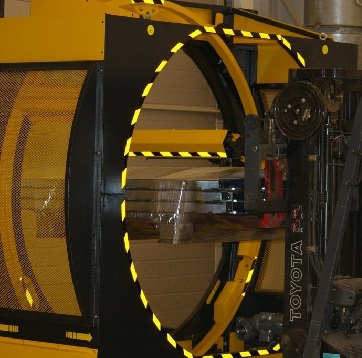 Large diameter of the rotating ring for high speed wrapping. The wrapping station is pushed by forklift driver during stretch wrapping. It's optional to upgrade this motion to automatic motor driven.
For specific demand and needs, programmable PLC could be added and adopt photoelectricity, automatic sensoring when goods approaches and machine automatic start and stop for wrapping.
Auotmatic material cutter driven by pneumatic cylinder for cutting and clamping stretch film after wrapping and load wrapping material for next turn.
Features
Large rotating ring for different pallet dimensions.
Big stretch film roll with wide width to improve the wrapping efficiency.
Optional to upgrade to motor driven motion for automated solution.
Mushroom button, to stop the machine when emergency happens.
Adjustable ring rotation speed through frequency inverter.
Stretch film tension could be adjusted to make tighter package.
Film spool is workable for different packing materials.
Automatic start and stop as well as automatic film cutter are available to add for fully automatic operation.
Fully automatic solution allows the machine to operated by only one forklift driver.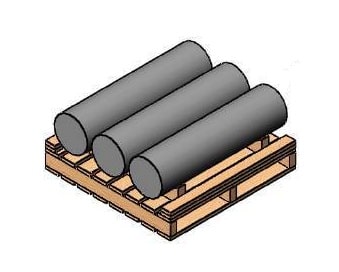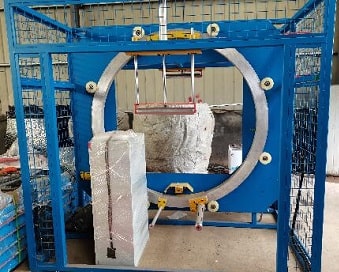 Technical Parameter
Pallet size
L1000mm*W800mm/L1000mm*W1000mm
L1200mm*W1000mm/L1200mm*W1200mm
( other dimensions are available to customize)
Max height
500mm ( available to customize for higher height)
Film roll dimension
ID
76mm
OD
max 350mm
Width
300-500mm
Stretch film thickness
20-35 microns
Speed of ring rotation
30-40rmp
Overlapping rate
15-90%
Operation mode
semi-automatic operation
Power supply
380V, 3Ph, 50/60Hz( available to customize)
Output
1.25Kw
Options
Motor driven solution
wrapping station moved and powered by motor
PLC program
for automatic wrapping start and stop
Film cutter
for cutting and clamping wrapping material when wrapping process is finished, automatic material loading for next turn