The belt conveying line uses the rubber belt to drag the working plane to transfer the movement to achieve the purpose of the production process. It's often called as belt assembly line when it's used to delivery unfinished products of the assembly line. For feeding products to the package machine, it's also called as belt conveyor.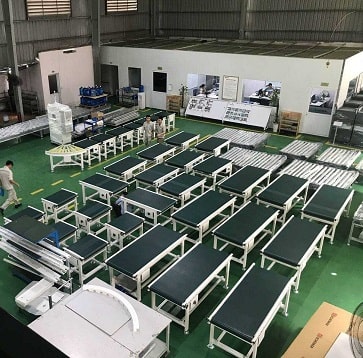 This belt conveyor adopts a combined assembly mode, and the number of stations can be set according to process requirements.
The belt conveyor station is equipped with power sockets, process drawing boards, lighting, etc., so that the entire process flow is fast and orderly.
High-Performance Rubber Flat Belt Conveyor is probably the most well known type of conveyor, the belt conveyor has been around for centuries.
A belt conveyor consists of two or more rollers with which a belt tensioned between. At least one of the rollers is powered by a geared motor which in turn moves the belt around all the rollers.
Features
Economic and practical, cost-effective.
Modular combination, easy to transport.
Reliable operation, low noise and safety.
Leg height adjustable, wide application scope.
Surface electrostatic spray, beautiful appearance.
Transmission speed is adjustable.
Heavy load capacity.
Beautiful lightweight design, fast installation.
Light belt conveyor (aluminum alloy) is a light load conveyor belt line, conveying carton, magazines, etc., suitable for indoor transportation.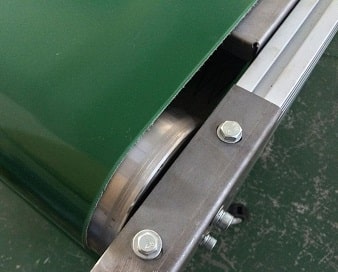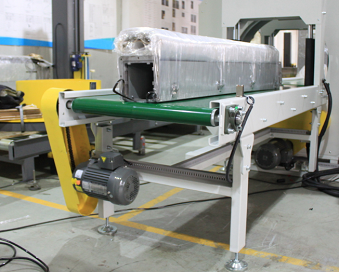 Technical Parameter
| | |
| --- | --- |
| Width | 500mm/800mm/1200mm........ customized |
| Length | 1000mm/2000mm/3000mm/6000mm.......customized |
| Loading height | 800mm.....customized |
| Max load | 200kg |
| Conveying speed | 1-15m/min |
| Speed control | by speed regulator or frequency converter |
| Applicable machine | shrink wrapper, orbital stretch wrapper |
| Working mode | automatic / button control |
| Output | 0.75Kw....... |