The roller and chain integrated conveyor is an unique conveyor specifically for the transaction of heavy cargos from one line to another line. It includes a section of chain conveyor embeded under the roller conveyor and will rise up when the cargo is in place for transferring.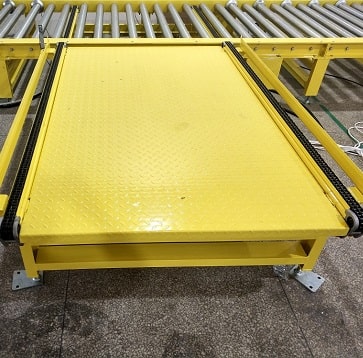 Integration of chain and roller conveyors to realize the 90 degree transfer of heavy cargo.
The operating principle of the receiving table with a mechanized raising of all of the round roller belts transferring the part onto rollers gently transferring it 90 degrees to the parallel return conveyor.
Once the panels have cleared the receiving table the round roller belts return to their lowered position to receive the next work piece.
The pass line between the receiving table and the parallel return is approximately 50mm to avoid interference when oversized panels are traveling in opposite directions.
Features
Oversized heavy duty air cylinders, clean, well-organized control panel design.
Motorized in-feed receiving rollers are extended to parallel the front machinery out-feed track.
Small in-feed roller belt to assist small parts when exiting the edgebander's out-feed track.
Two adjustable photo eyes to divert small parts across multiple return rollers.
Hold down rollers to prevent oversized parts from tipping while being fed onto the receiving table.
In-feed receiving table ships as one complete unit.
Extended out-feed table comes standard allowing oversized parts to rotate back onto the receiving table.
Heavy duty welded from construction.
Heavy duty gear box with chain drive.
Variable feed speeds, adjustable up to 28m/min. Comes preset at 12, 16 and 20 m/min.
Technical Parameter
| | |
| --- | --- |
| Width | 800mm/1200mm........ customized |
| Length | 3000mm/6000mm.......customized |
| Loading height | 800mm.....customized |
| Max load | 1500kg |
| Conveying speed | 1-15m/min |
| Speed control | by speed regulator or frequency converter |
| Applicable machine | pallet stretch wrapper, pallet baler |
| Working mode | automatic |
| Output | 1.5Kw....... |