TP-XB180-FD fully automatic rotary arm pallet stretch wrapping machine, top sheets dispenser for making full covered packages.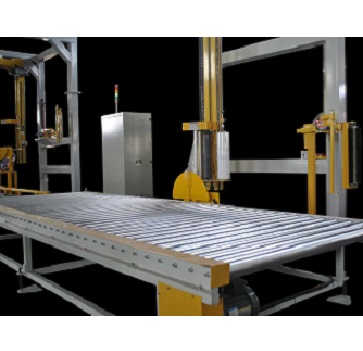 Online layout for integrating with the existing line, photoelectricity sensor detects goods' approaching and gives signal back to PLC system.
Machine stops when film carriage arrives at the top, top sheet dispenser drops a piece of film to the pallet then wrapping continues. The wrapped pallets are waterpproof and dustproof.
The machine is suitable for various industries, such as large food making factory, beverage plant which has large quantity and requires high standard package.
Tighter package are made because of pre-stretched wrap, the stretch wrap shrinks in the afterwards.
Features
HMI for setting, auto start and manual operation are both available.
Sensor detects when pallet is inplace, giving signal to PLC.
PLC control system, famous brands are adopted.
Automatic height sensoring, detecting the top of goods without any manual assistance.
Pre-stretch function, tighten the package while saving more packing material.
Adjustable tension control, available to use different packing material.
Overlapping rate adjustable, top and bottom reinforced wrapping settable on touchscreen.
Initial position automatic return after wrapping.
Motorized conveyor, able to connect with customer's line.
Conveyor height depends on customer's requirement.
Speed of rotary arm and film carriage are controlled by inverters, prevent potential risks for engines and extend the worklife of machine.
Scissor type film cutter, clamping and cutting the film automatically.
Top film dispenser, apply film or sheet to the top.
Film dispenser able to be designed as pass through type per customer's circumstances and requirement.
Tail of film swept by a broom/brush, sticks neat to the package.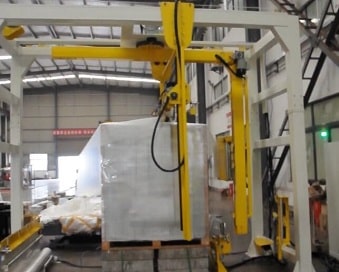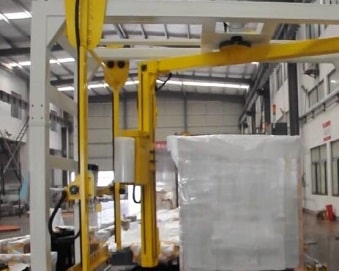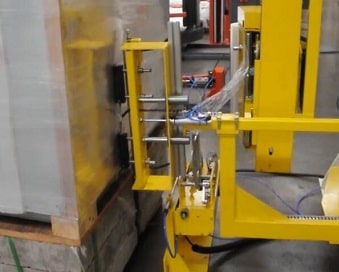 Technical Parameter
| | |
| --- | --- |
| Max pallet dimension | upon customer requirement |
| Wrapping height | 2000mm, (2400mm, 2800mm, available to customize) |
| Max load | 2000kg,(3000kg available to customize) |
| Film roll dimension | ID( paper core): 76mm, OD: max 300mm, Width: 500mm, Weight: max 15kg |
| Pre-stretch ratio | 250%/300% |
| Speed of rotary arm | 15-18rmp |
| Packing speed | 20-30 pallets/hour |
| Operation mode | auto start |
| Power supply | 380V, 3Ph, 50/60Hz( 220V, 480V.... available to customize) |
| Compressed air supply | 3-8kgf/cm² |
| Output | 3.5kw |
| Gross weight | app 2000kg |
Optional Accessories
Top press platen
for fixing tall and lift goods during wrapping
Weighing scale
for weighing the goods more conveniently
Conveyor
Conveyor belt, roller conveyor, chain conveyor and chain board conveyor are optional to choose