Bottle unscrambler is mainly used for the automatic alignment, centralization and conveying of various plastic bottles and glass bottles (round bottles); It has the characteristics of fast unscrambler, few replacement parts when changing varieties, fast and convenient, etc.; It can be widely used Pharmaceutical, chemical, food and beverage industries, and can be matched with different automatic packaging production lines.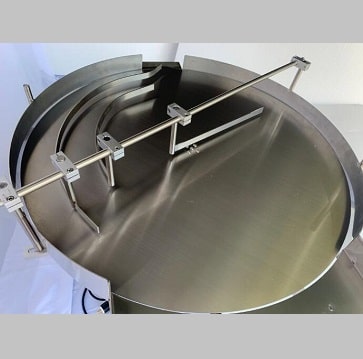 Straighten plastic bottles or glass bottles in a messy condition, then disperse them, and regularly arrange the bottles to stand on the conveyor belt in order to meet the requirements of high automation.
Necessary for high-speed production or lack of machinery. Save a lot of labor costs and avoid losses caused by human factors.
The unscrambler's turntable drives the product to automatically rotate. The product is close to the edge of the glass turntable under the fluctuation of the unscrambler's plate, and the product is led out in an orderly manner along the unscrambler slot of the unscrambler.
It is suitable for the automatic transmission of round and square bottles, such as the conveyor belt connected to the labeling machine, filling machine, and capping machine, which can automatically feed the bottle to improve efficiency; it can be applied to the middle connection of the assembly line as a buffer platform, Reduce the length of the conveyor belt.
Features
The diameter of the applicable bottle can be adjusted freely, and it is compatible with glass bottles and plastic bottles.
The bottle conveying speed is 30~200 bottles/min. The speed can be adjusted steplessly, which is convenient for production arrangements. It can also be used as a bottle collector.
Composed of a main rotating disk and a bottle outlet.
Semi-automatic operation is simple, no special training is required.
When changing bottles, it is hardly used for adjustment.
Stepless speed regulation, stable speed.
According to the requirements of GMP standard, the whole machine adopts AISI 304 stainless steel as the main material, which can be modified according to requirements.
It can be coordinated with the whole line, automatic bottle unscramble and stop automatically according to the production situation.
Technical Parameter
| | |
| --- | --- |
| Turntable Diameter | 800mm, 1000mm ( available to customize) |
| Suitable bottle diameter | φ20mm~φ100mm |
| Suitable bottle height | 20mm~150mm ( available to customize) |
| Conveying speed | 30-200 bottles/min |
| Rotation speed | 10 circles/min |
| Working height | 900mm ( available to customize ) |
| Material | #304 Stainless Steel |
| Application | Plastic or Glass Bottles Square or Round Bottles |
| Out-put | 0.12 Kw |
| Power supply | 220V, 50Hz, 1Ph ( 110V/400V/480V/ are available) |
| Overall size | L990mm×W900mm×H1040mm |
| Gross weight | app 60kg |