Turntable door panel stretch wrapping machine is adapting the pallet wrapping machine to door wrapping application, TP-DP165-H is a model with roller table on the turntable for online in-feeding and out-feeding of heavy and thick door and windows.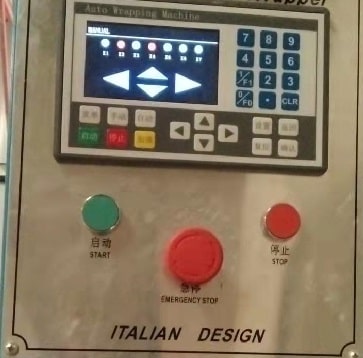 Roller table built on the turntable for handling the in-feeding and out-feeding works of large heavy door and windows.
Machine has clamp on turntable, fixing the panel with the assistance of upper clamp on the top press device.
The TP-DP165-H has been widely used by wooden and metal door manufacturers, glass window and door panels, sandwich panel and other timber products.
Features
Control panel built in the mast.
Display for setting, one button to start wrapping automatically.
PLC control system, famous brands are adopted.
Automatic height sensoring, detecting the top of goods without any manual assistance.
Pre-stretch function, tighten the package and using less packing material.
Adjustable tension control, available to use different packing material.
Overlapping rate adjustable, top and bottom reinforce wrapping settable on display.
Initial position automatic return after wrapping.
Speed of turntable and film carriage are controlled by inverters, prevent potential risks for engines and extend the worklife of machine.
Lower and upper clamps for fixing the products, keep stationary during rotation.
Top press device driven either by pneumatic cylinder or electrical motor, fast and easy to adjust.
Forklift notch has been reserved, convenient for relocation.
Technical Parameter
| | |
| --- | --- |
| Turntable Diameter | 1650mm(available to customize) |
| Door/panel dimension | L 1200-2500mm, W: 800-1500mm, thickness: 50-200mm |
| Max load | 2000kg (available to customize) |
| Film roll dimension | ID( paper core): 76mm, OD: max 300mm, Width: 500mm, Weight: max 15kg |
| Pre-stretch ratio | 250%/300% |
| Speed of turntable | 0-12rmp |
| Operation mode | one-button start |
| Power supply | 220V,1/3Ph, 50/60Hz( 110V, 380V.... available to customize) |
| Compressed air supply | 3-8kgf/cm² |
| Output | 1.5kw |
| Packing dimension | L2620mm*W1820mm*H900mm |
| Gross weight | app 650kg |