The automatic upholstered furniture sealing and shrink wrapping machine is able to do full sides sealed package for Bedroom Furniture, Sofas, Bed Bases, Membrane covers, Bathroom and kitchen cabinet, doors, door frames and molding, laminate flooring, Sandwich panels, Wood Panels, Aluminum, steel and wood profiles and pipes, PVC profile products, etc. .....The product will be wrapped by bubble film inside, give extra protection for delivery and ......PE film wrapped before shrinking. The shrinked package is tight and nice,with all sides of package are welded without any leak.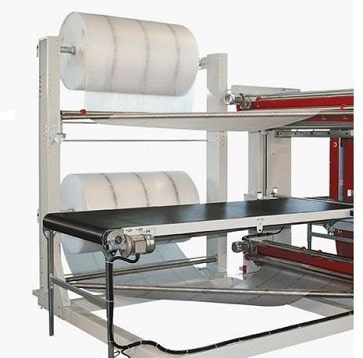 Wrap the products with protective bubble film sheets. Two rolls of bubble film supply from the bottom and top at the same time.
Heat sealing blade for welding the upper layer and bottom layer together. Action controlled by PLC system, heat blade recovers automatically.
Special designed mold forming blade with Teflon coating surface. Automatic protection and alarm for wrong cutting.
Features
Continuous sealing & cutting and no limits of the item length make it particularly suitable for longer, wider and heavy products' fully-closed packaging with PE film.
Side sealing lines can be adjusted to the desired position which based on the product's height in order to achieve excellent sealing strength results.
Humanized touch smart operation interface is convenient for the operator to use.
Siemens PLC program controller achieves the integrations of mechanism, electricity and pneumatic. Imported photo sensors to detect the horizontal and vertical section to satisfy different products' packaging.
Assorted shrink tunnel uses imported double air circulation motors, so that the hot air in the oven can spread more evenly to get a good shrink effect.
Scissor lift is optional to add for lifting up the products, to install protective angles to the furniture.
Ten cross turning device upper the conveyor is optional to add to rotate the product for quality control check.
Special designed structure of the side sealing device, induce the film to a higher position for a more certralized sealing performance.
Insulation filled in the wall, keeps more heat inside, reduce tower consumption.
Cooling fans, cool down the shrinked products with a faster speed.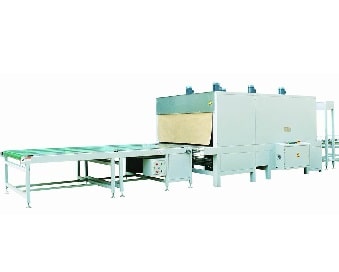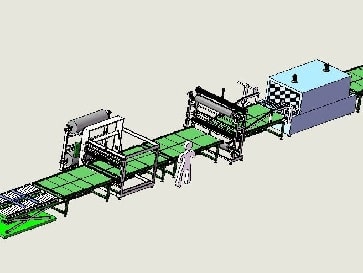 Technical Parameter
| | |
| --- | --- |
| Suitable packaging dimension | |
| Length | 600-3000mm |
| Width | 400-1500mm |
| Height | 400-1200mm |
| Working height | 800mm |
| Film dispenser | Air bubble film sheets |
| Conveyor | Conveyor belt / Motorized roller table |
| Conveying speed | 0-9 meter/min |
| Shrink wrap film | contractable PE film |
| Film thickness | 50-150 microns |
| Power supply | 380V, 3Ph, 50/60Hz( 415V, 480V.... available to customize) |
| Compressed air supply | 3-8kgf/cm² |
| Output | 50 Kw |
Optional Accessories
Scissor lift
for loading the products from floor level
Ten cross turning mechanism
for checking the quality of products before packaging