EM-CF400 Auto cable coiling and wrapping machine, with cable length counting, coil making,automatic cutting,wrapping packing with PVC film...
High-speed line arrangement system, neat and beautiful line arrangement.It is necessary to replace different coil reels head per different coiling inner diameter.
All conform to CE guidelines and have been designed using the latest technology and design criteria for plastic pipe industrial using.
Features
Parameters be set on the control program in English.
PLC & HMI control program for automatic operation.
Coiling length per coil can be set per requirement.
Auto cutting off after coiling making successfully.
Coiling OD can be adjustable.
High-speed line arrangement system, neat and beautiful line arrangement.
Indicator alarms automatically when trouble occurs.
Detecting the tube position infeeding automatic by sensor.
Tension control for avoiding deforming in coiling.
Manual and automatic working mode can be choosing.
Can add auto coil stacking system in the end of packing line.
Automatic positioning for different coils for wrapping packing with PVC film.
Wrapping with machine used PVC film roll.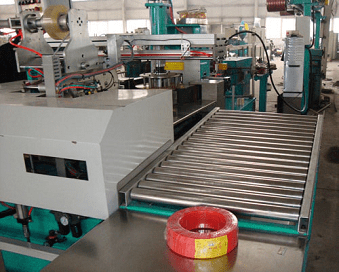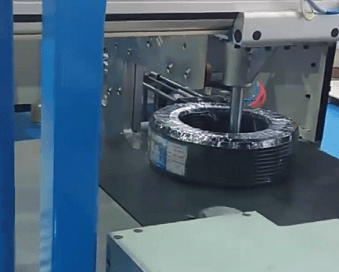 Technical Parameter
Cable Diameter
3-10mm
Coiling ID
150mm
Coiling OD
200-400mm
Coiling Height
50-120mm
Line speed
200m/min
Coiling speed
2-2.5 coils/min
Air supply
6bar
Coil feed style
Hold coil type (sensor)
Meter counter
0.01m-500m
Power supply
380V, 3Ph, 50/60Hz( 220V, 480V.... available to customize)
Wrapping Material
Machine used PVC film roll
Film roll size
ID 75mm
OD 240mm
Width 40mm
Optional Accessories
Auto coil stacking
auto holding finished cable coils one by one to stacking system for pallet arrangement.